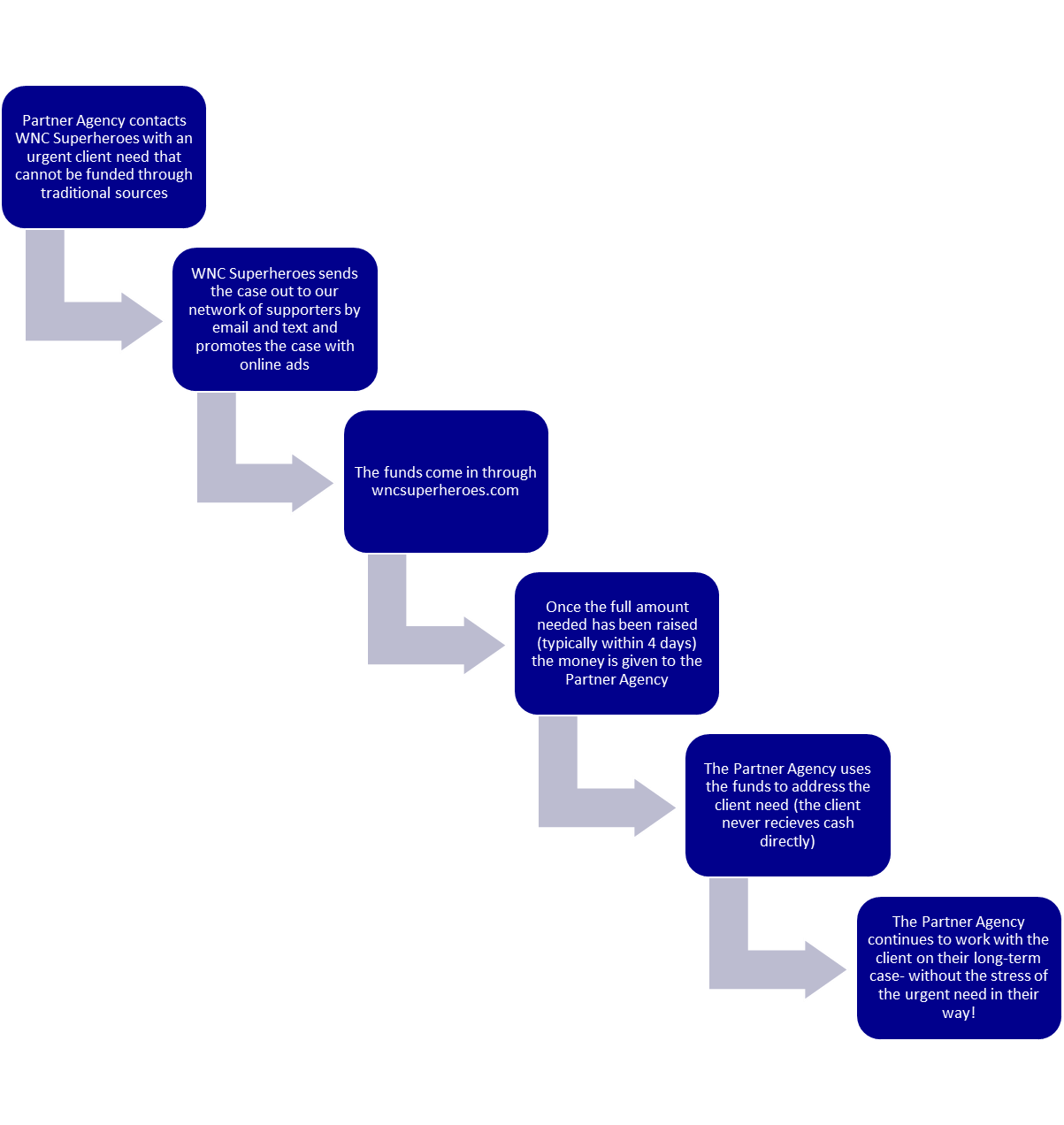 The Need We Face: Preventing short-term emergencies from becoming long-term problems
The Smith family is in acute distress. Mrs. Smith got the flu and missed several days of work. Mr. Smith was fortunate to get additional shifts at his job, but they still fell behind on their bills. A few weeks go by, and while Mrs. Smith is back to work, they have not yet been able to dig out from the deficit created by her lost wages. Their electrical service is interrupted due to a missed payment arrangement, and the amount needed to re-establish service is out of reach.
According to the Living Wage Calculator, created by MIT, a family of four in Buncombe County needs to earn $63,534 to meet basic living expenses. Currently, the median household income in the County is approximately $50,000. A single-parent caring for one child would need to earn $49,974 to meet basic living expenses, however, the average per capita income in the County is $28,087.
In a community this close to the financial edge, saving for an emergency is impossible for many. And with Bankrate reporting that 1 in 4 families in the country have no savings at all and 59% unable to pay for an unforeseen $500 car repair or medical bill, [1]this often means one emergency can leave a family struggling for years to come.
Mr. and Mrs. Smith know their children feel the strain of their situation. They know the stress is evident, and they try to make life seem normal while they struggle through a situation that seems overwhelming.
We are fortunate in this region to have many wonderful charitable organizations working to address the needs of our community. These organizations work alone and together to form a web of services to help people who need long-term assistance. WNC Superheroes is a non-profit that is agile, responsive, and quick to address a short-term need before it becomes a long-term issue. By tackling a one-time need, such as the fees to resume electrical service, a family like the Smiths is able to avoid sinking further into need and get themselves back on track quickly.
Mrs. Smith contacts WNC Superheroes through their website. Her Community Resources Coordinator gets the electric company account number and re-establishes service. The temporary crisis is averted. Their Community Resources Coordinator also provides them with a referral to agencies in Asheville that can help them in getting back on track now that the immediate need has been met.
No one should have to face years of struggle due to a one-time need. This kind of emergency crisis intervention can make all the difference to a family in Buncombe County.
[1] https://www.bankrate.com/banking/savings/financial-security-june-2018